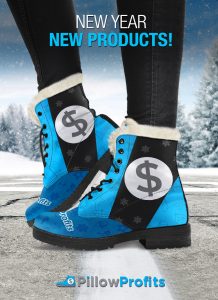 Happy New Year!
Let's get 2019 started off right with a hot new product that is sure to bring in sales during the winter months!
January is the perfect month to start selling our newest product – cozy faux fur leather boots.
The best part about these boots is you can re-use your artwork from our classic leather boots and start selling immediately.
2018 was a massive success for our sellers with over 15 new innovative products we added into the Pillow Profits catalog.
We're going to carry the momentum of 2018 into 2019 with even more products so stay tuned as we continue to build our catalog with the hottest products on the market!
You can learn more about our new faux fur leather boots here –> https://pillowprofits.com/faux-fur-leather-boots/